KR2
TU 4213-008-49652808-2004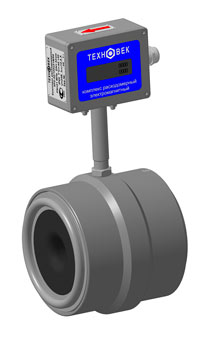 Designation and options:
Volume flow rate measuring of pressure control system waste water with telemetric data display.
Modifications with interface RS-485 or current output 4-20mA are also possible. Modification of the flow meter with LCD indicator allows to control instant and cumulative flow rate on the front panel of the device.
Principle of action:
Measuring of the electromotive force induced by geomagnetic field in the conducting fluid proportional to the average speed of the flow. Volume flow rate that goes through the pipelinetransforms intomultiple electric pulses with data grade circuit (0.001 m3, 0.01m3, 0.1m3, 1 m3), this format can be modified on the Customer's request.
Characteristics:
Wide range of operating pressures (up to 21MPa)
Operation with the increased gas ratio
Operation with high flow inhomogeneity near pipe bends, adjustable chokes, back pressure valves and gate valves
Absence of structure elements in the flow through. Pressure drop doesn't exceed pressure drop in the pipelines of the same length
Modifications:
General purpose
With indication (I)
Explosion-proof
Technical Characteristics

Maximum operating pressure, MPa (psi)
21 (3000)
Name of the product
KR2-32A
KR2-32
KR2-65
KR2-100
Nominal bore (Dy), mm
32
32
65
100
Ring gasket diameter for flange connection (Dn), mm
80
128
Flow rate range, m3/per hour
0.3…30
0.3…30
1.3…130
3…300
Operational temperature ranges, °C
-50…+50
Operational temperature ranges with LCD indicator, °C
-40…+50
Relative error, not to exceed %
+-1.5%
Electricity supply, V
24+-5
Required power, W
5
Dimensions, (DxLxH), mm.
110x140x320
160x160x370
160x160x370
180x160x390
Weight, (not exceeding) kg
7.9
12.3
11.2
13.9
Back to catalog