ZD 50(80,100,150)-16(25,40,63,160,250)
TU 3741-001-49652808-2000
Disk gate valves are designed to stop the flow in pipelines with different pressure and nominal bores. Flow media — water, technical oil, oil emulsion. Total service life is not less than 15 years. Time to failure is not less than 600 cycles. Total average life until the first full repair is not less than 5 years. Opening or closing operation is performed by the handle stop-to-stop position (90°).
Climatic category of the wellhead equipment — UHL(HL1) in accordance with the national standard GOST 15150-69.
Operational temperature limits +40°C −60°C. Flow media temperature is not exceeding +120°C.
Direction of the flow — any.
Typical sizes of the disk gate valve flanges are in accordance with GOST 12815.
Construction Length of the Disk Gate Valves

Operational pressure, Pn, kg/sm2
Nominal bore, mm
50
80
100
150
PN 16
180
210
230
280
PN 25
216
283
305
403
PN 40
216
283
305
403
PN 63
267
318
356
444
PN 160
292
356
432
559
PN 160
300
390
450
559
PN 250
350
470
550
750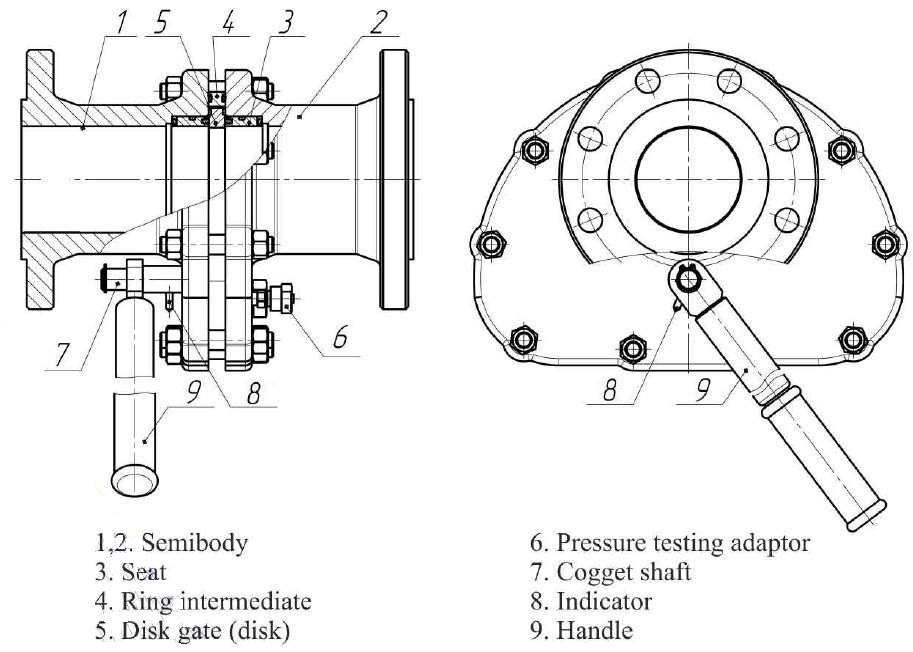 Construction Length of the Disk Gate Valve Flanges PN 16

Dn, mm
D,mm
D1, mm
D2, mm
h,mm
b,mm
n,mm
d,mm
50
160
125
102
3
14
4
18
80
195
160
133
3
17
4
18
100
215
180
158
3
17
8
18
150
280
240
212
3
21
8
22
Construction Length of the Disk Gate Valve Flanges PN 25 и PN 40

Dn, mm
D,mm
D1, mm
D2, mm
h,mm
b,mm
n,mm
d,mm
50
160
125
87
4
17
4
18
80
195
160
120
4
19
8
18
100
230
190
149
4
21
8
22
150
300
250
203
4
27
8
26
Construction Length of the Disk Gate Valve Flanges PN 63

Dn, mm
D,mm
D1, mm
D2, mm
D4, mm
h,mm
b,mm
n,mm
d,mm
b2,mm
h2,mm
r,mm
50
160
125
87
85
4
17
4
18
12
8
4
80
195
160
120
115
4
19
8
18
12
8
4
100
230
190
149
145
4
21
8
22
12
8
4
150
300
250
203
205
4
27
8
26
14
10
4.2
Construction Length of the Disk Gate Valve Flanges PN 160

Dn, mm
D,mm
D1, mm
D2, mm
D4, mm
h,mm
b,mm
n,mm
d,mm
b2,mm
h2,mm
r,mm
50
195
145
115
95
3
27
4
26
12
8
4
80
230
180
150
130
3
33
8
26
12
8
4
100
265
210
175
145
3
37
8
30
12
8
4
150
350
290
203
205
3
47
12
33
14
10
4.2
Construction Length of the Disk Gate Valve Flanges PN 250

Dn, mm
D,mm
D1, mm
D4, mm
b,mm
n,mm
d,mm
b2,mm
h2,mm
r,mm
50
195
160
90
40
8
22
12
8
0.8
80
242
168
123.8
46
8
25
12
8
0.8
100
292
235
149.2
53
8
32
12
8
0.8
Back to catalog