TU 3665-009-49652808-2004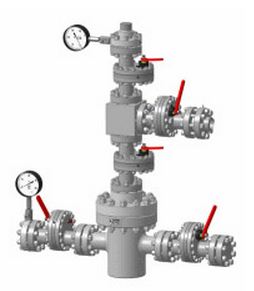 It is intended for wellhead sealing and controlling of its operational mode.
It is equipped with safe, easy-to-use and highly proof disk gate valves ZD-type.
To perform step control of the flow (for ANK1Sh) it is equipped with disk choke gate valves ZDSh. It takes 3-5 min. to change chokes in the disk choke gate valve ZDSh by one operator with the disk gate in the closed position without pressure release.
Alloys and materials used guarantee high resistance to wear and corrosion.
Can be transformed to the injection type ANK.
Climatic category of the wellhead equipment — UHL(HL1) in accordance with the national standard GOST 15150-69.
Temperature ranges +40°C −60°C.
Technical Characteristics

Operational Pressure Pn, MPa (psi)
14(2000), 21(3000), 35(5000)
Nominal Bore Dn, mm.
Master valve
65, 80, 100
Side Outlets
50, 65, 80, 100
Side Outlets of the Tubing Head
50, 65
Connection Thread
To tubing*
NKT73, NKT89, NKT102, NKT114 GOST 633-80
To casing of M2,M3 type*
NKT73,NKT89,NKT102,NKT114 GOST 633-80
Exposure to production fluid
K1, K2 GOST 13846-89
Flowing fluid temperature, °C
Not to exceed 120
*Depending on the Customer's order X-mas tree can be made with different type of thread.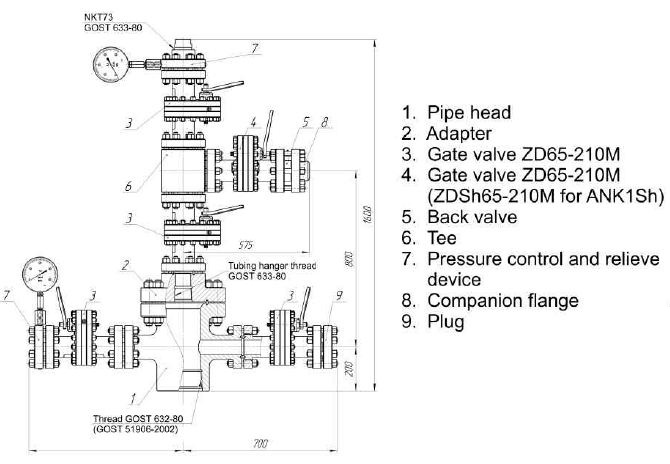 Back to catalog