ZDSh 65(50,100)-140(210,350)M
TU 3741-001-49652808-2000
Disk choke gate valve is intended for installation on the high pressure pipelines, X-mas and Injection trees. The unique feature of the design gives a number of advantages over gate valves with the "classical" design:
"opening-closing" is performed with the handle;
free inner space is minimal (gate revolves around its axe) and allows to perform opening-closing of the disk gate valve without preheating in low temperatures.
ZDSh connection sizes are equivalent to ZMS gate valves (there's a possibility to make gate valves according to the Customer's requirements).
Disk choke gate valve ZDSh is designed on the basis of the disk gate valve ZD with equivalent technical characteristics and it is equipped with quick-changing ceramic chokes with hole diameters 2,3,4,5,6,8,10,12 (any diameter according to the Customer's order). It is intended for step control of the flow (technical water, oil and etc.) and is installed on the high pressure pipelines to replace choke block.
Use of ceramic chokes demonstrates their high-wearing feature and long life service.
Replacement of chokes in the disk choke gate valve is performed by one operator in 3-5 minutes in the closed position of the gate with no need of pressure release.
According to the special order disk choke gate valve can be equipped with a back pressure valve that prevents back flow.
Technical Characteristics

Composition of produced fluids
Technical water; oil with СО2 and H2S up to 6 %; natural gas containing liquid hydrocarbons, ethyleneglycol, methanol (СН3ОН), turbine oils, water and mechanical particles
Temperature ranges, ºC
-60…+45
Flowing fluid temperature, ºC
Not to exceed 120
Leak tightness of the Gate, class, GOST R 54808-2011
A
Operating position
Opened
Direction of flow
Any
Location on the pipeline
Any
Connection to the pipeline
Flange
Total service life, years, not less than
15
Total average life, cycles, not less than
1800
Time to failure, cycles, not less than
600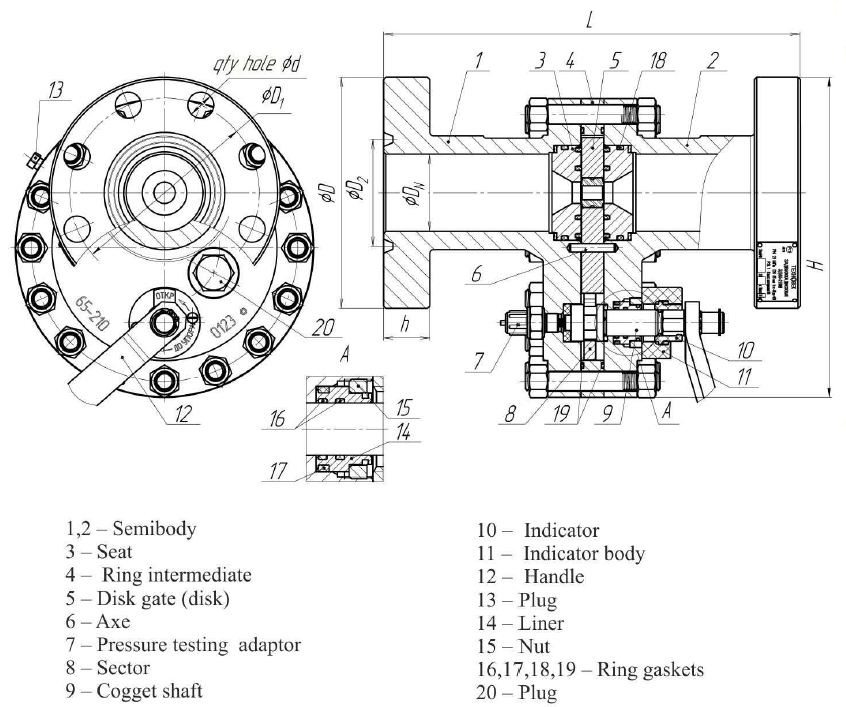 Technical Characteristics

Product Name
Dn, mm.
Pn, MPa (psi)
L, mm
D, mm
D1, mm
D2, mm
n, pcs
d, mm
H, mm
h, mm
Modification
ZDSh
50,65
14(2000)
350
195
160
92
8
22
270
27
GOST 28919
21(3000)
90
40
35(5000)
50
14(2000)
295
165
127
82.5
8
19
255
34
21(3000)
371
215
165
95.2
25
280
46
35(5000)
65
21(3000)
422
245
190.5
107.9
28
295
50
80
14(2000)
359
210
168
123.8
8
23
318
40
21(3000)
435
242
190.5
123.8
25
334.5
46
35(5000)
473
265
208
136.5
32
347
56
100
21(3000)
511
292
235
149.2
8
32
402
53
Back to catalog