AShK(E) 50x14K1(K2)-7(8,9)
TU 3665-009-49652808-2004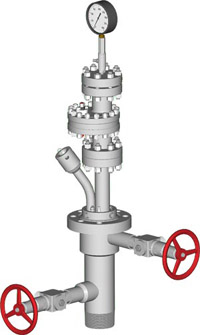 It is intended for wellhead sealing that is operated with electric oil pumping units.
The body has side outlets for installation of angle valves. There's an adapter with channels for installation of the disk gate valve ZD 65-140M, cable gland and tubing support.
There's a release valvethat allows to relieve extra gas pressure from the annular space to the channel with the product.
Flange of the body has mounting and sealing surfaces to install technological equipment.
Unlike other analogs, AShK50×14 has minor weight and size characteristics, large variety of technological possibilities with minimal number of check and control valves.
Climatic category of the wellhead equipment — UHL(HL1) in accordance with the national standard GOST 15150-69.
Temperature ranges +40°C −60°C.
Technical characteristics

Product Name
AShK50x14 K1(K2)-U
AShK50x14 K1(K2)-U-01
AShK50x14 K1(K2)-U2
Maximum operating pressure Pn, MPa (psi)
With the Pumping Unit On
4(570)
With the Pumping Unit Off
14(2000)
Nominal Bore Dn, mm.
50
Connection Thread
146 GOST 632-80
OTTM 146 GOST 632-80
BCSG 146 GOST R 51906-2002
Exposure to production fluid
K1, K2 GOST 13846-89
Flowing fluid temperature, °C
Not to exceed 120
*Depending on the Customer's order any variant and combination are possible.
Back to catalog