AShK65x21K1-15
TU 3665-009-49652808-2004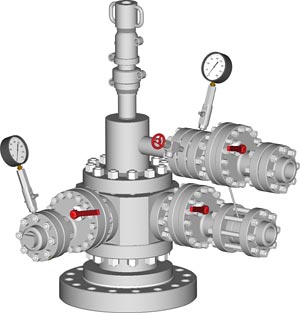 Design of AShK65×21K1-15 allows to convert the well for injection.
The wellhead equipment can go in set with the polished rod stuffing box SUpk-2-73 that has a blowout valve that automatically seals the channel of the polished rod packing in event of the rod breakage, rubber seals with the advanced equipment life and a spherical ball joint that allow to compensate angle misalignment of the well head and the pumping unit during movement of ground.
Climatic category of the wellhead equipment — UHL(HL1) in accordance with the national standard GOST 15150-69.
Temperature ranges +40°C −60°C.
Technical Characteristics

Maximum operating pressure Pn, MPa (psi)

4(570)
With the Pumping Unit On

21(3000)
With the Pumping Unit Off

Nominal Bore Dn, mm.

50,65

Connection Thread
To tubing

NKT73 GOST 633-80

Exposure to production fluid

K1 GOST 13846-89

Flowing fluid temperature, °C

Not to exceed 120
Back to catalog