AShK50x14K1(K2)-7(8,9)
TU 3665-009-49652808-2004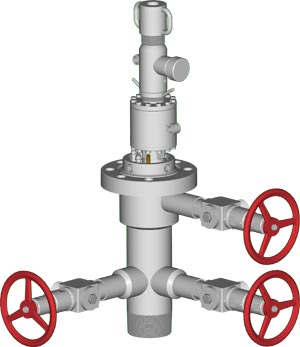 Base variant 
It is intended for wellhead sealing, controlling of its operational mode, installation of devices to perform well research and technological operations.
The body has side outlets to install angle valves. There is an adapter with channels to install polished rod packing and to connect tubing. There is a release valve that allows to relieve extra gas pressure from the annular space to the channel with the product.
Flange of the body has mounting and sealing surfaces to install technological equipment.
Unlike other analogs, AShK50×14 has minor weight and size characteristics, large variety of technological possibilities with minimal number of check and control valves.
It can go in set with the polished rod stuffing box SUpk-2-73 that has a blowout valve and a spherical ball joint that allow to compensate angle misalignment of the well head and the pumping unit during movement of the ground.
Check valve KZ1-50×14 provides safe flow cut-off due to the usage of the combined sealing element.
Climatic category of the wellhead equipment — UHL(HL1) in accordance with the national standard GOST 15150-69.
Temperature ranges +40°C −60°C.
Depending on the Customer's order any variant and combination are possible.
Technical characteristics

Product Name
AShK50x14 K1(K2)-7
AShK50x14 K1(K2)-8
AShK50x14 K1(K2)-9
Maximum operating pressure Pn, MPa (psi)
With the Pumping Unit On
4(570)
With the Pumping Unit Off
14(2000)
Nominal Bore Dn, mm.
50
Connection Thread
To tubing
NKT73 GOST 633-80
To casing*
OTTM 146, 168 GOST 632-80
OTTM 146, 168 GOST 632-80
BCSG 146 GOST R 51906-2002
Exposure to production fluids
K1, K2 GOST 13846-89
Flowing fluid temperature, °C
Not to exceed 120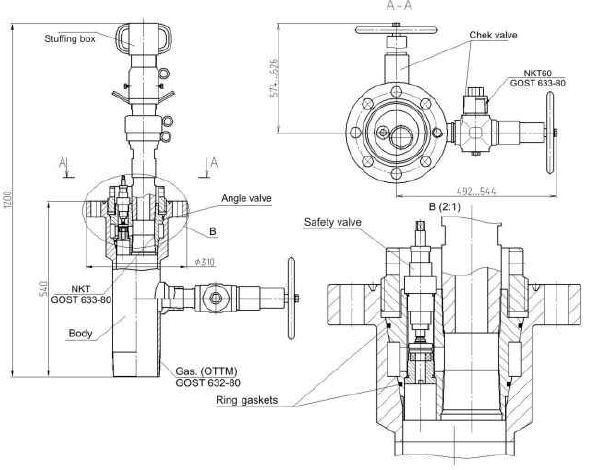 *Depending on the Customer's order any variant and combination are possible.
Wellhead Equipment with the Proportioning Unit
It can go in set with the proportioning unit D5-50×14 (on a special request) that allows performingslug feed of chemicals to the annular space of the well without its shutdown. Device capacity — 5 liters.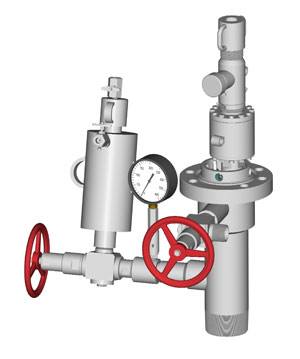 Wellhead Equipment with Manifolds

Back to catalog